AUDREY LACROIX-TIMELESS ABSTRACT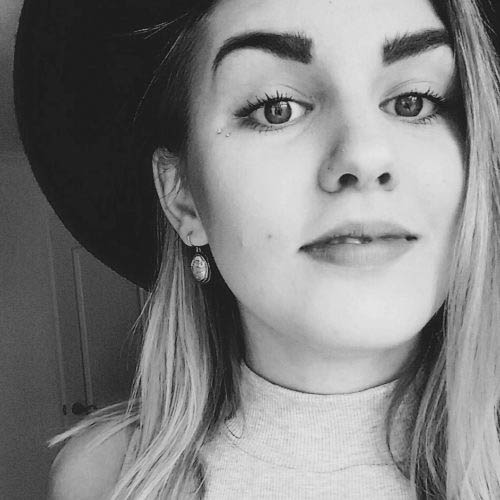 In your opinion, what characterizes being an artist in Quebec City?
In my opinion, the artists of Quebec City can draw inspiration from the authentic architecture and its history. They have the chance to live in a society where the culture of the arts is stimulating and active.   Personally, the Saint-Roch district is a true inspiration.   This is where I chose to live as an artist because the neighborhood is trendy and avant-garde in the arts. What characterizes being an artist in Quebec City is the openness of the population, this drives artists to explore and experience contemporary art.
Whom is the artist from Quebec City that inspires you the most? Personally, I do not limit myself to only one inspiration, since I find something interesting in each one.  This is what makes the beauty of the humans, each person brings their vision.  The openness shown by some artists contribute to the emancipation of contemporary art in Quebec and I am in awe of the courage with which they give us their creations.   In addition, we are fortunate to have excellent artists who enrich the Quebec music industry.  My inspirations are not only painting, that is to say that music makes me reflect on topics stigmatized in society.  The Quebec rap is an inspiration. The lyrics are powerful, deep and this leads me to question several foundations or dictates.  Including the documentary Revenir de loin from Quebec rapper Koriass.  He is living proof that no matter the environment from which we are from and the challenges faced, if one clings to their dreams, nothing is impossible.  Hymn to hope and resilience, Emmanuel Dubois (Koriass) is the one who inspired me most.
What is your creative process?
I would say that it's all about spontaneity.   Abstraction allows me to express the present moment, a sudden impulse.  Facing the canvas, I let the energy of the music infuse me.  I always paint alone in my studio because I find humans pass enough time exposed to the judgment of others.  Alone with myself, this is the only way to clear my mind.  In contact with the material, the pigments and texture, my movements are nothing more than the extension of my thoughts.   Disorganized, my ideas meet. There may be confusion, but I am true to my intuition. In short, my creative process is intuitive and experimental.  I can go a week without painting and suddenly, in an instant, my brain reaches saturation and can produce twelve consecutive hours without even thinking about feeding myself.  Time stops.
Where is the place you go to rejuvenate yourself in Quebec?
I've lived in Quebec for the past three years now, but I grew up on a dairy farm in Armagh in Bellechasse. It took me a while to get used to the pace of life here in Quebec City.  A completely different way of life, because everything is so fast.  With my university studies, work and production, I sometimes need to breathe and evacuate the daily stress.  I'll then go out to the country at my boyfriend's home in Beaumont.   It is a municipality near Lévis.  He lives by the river which is located between the countryside and the city.  It is a very peaceful and calming place where I can enjoy the beautiful scenery, including the man before me. A wonder to behold.
What is your morning routine?
The words morning routine is not part of my daily life, except when my university classes require me. I prefer to work when everything is quiet at night.  I think everything is more beautiful at night, the lack of light leaves room for the imagination.  I am much more creative at night.   I do not agree with those who say that the future belongs to those who get up early.  I think everything is a matter of interpretation.  I can paint up to three or four in the morning.  I love living at nighttime!   It's a different atmosphere, a different energy.  There is something mysterious that I very much like.   For now, this way of life is for me.
What "spot" would you recommend to an art lover who visit Quebec for the first time?  Why?
We have so many beautiful places rich in cultural art.  If I had to pick one, I would definitely recommend visiting the Old City where you can admire the architecture, Quebec culture & history, museums, etc.   I suggest the old city because everything is spectacular.  There's something for everyone, the sculptures, installations, paintings, performances, etc.
A QUÉBEC CITY HOTEL THAT LETS YOU LIVE LIFE TO THE FULLEST