MARIE-CATHERINE COTÉ – L'INTUITIVE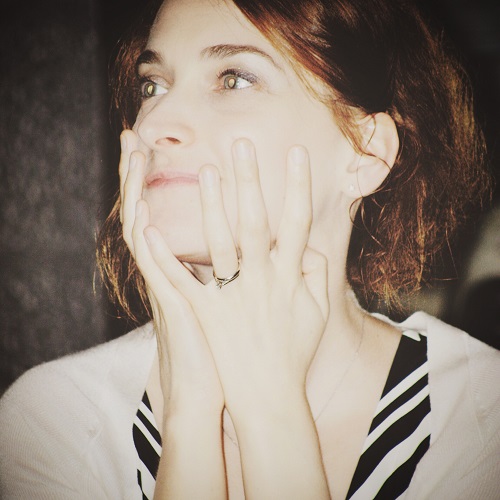 Whom is the artist from Quebec City that inspires you the most ?
It is in moments that are often peculiar and unexpected that a piece of work, in its uniqueness, makes something resonate. Recently I was touched by the bronze sculptures of Grégoire Anioclès. I also appreciated the crystalline beauty of some of Martin Beaupré's creations, as well as the colors and volumes of the faces painted by Françoise Nielly.
What is your creative process?
It is purely intuitive. It's like an inner movement, a sensation, an emotion that flows all the way through the fingers. It sometimes expresses itself in resonance with an encounter, a circumstance, a perception, even a sensibility that sometimes escapes me. I like abstract art because it gives free rein to this kind of expression.
Where is the place you go rejuvenate yourself in Quebec?
This often results in a restaurant or a cup of coffee accompanied by a pastry in a cozy cafe.   Some of my favorite coffeeshops  are the Maelstrom, St-Henri and ES Café (on the South Shore of Quebec). Gastronomy side, La Planque and Battuto are the kind of places where I like to recharge my taste buds.  Be that as it may, a simple time spent gazing at  trees swaying in the wind is often enough to recharge my batteries.
What is the mornign routine
I put on my gloves for my fingers that serve me as brushes and I transform a dining room bathed in sunshine into a workshop.  All accompanied by the aroma of freshly ground coffee and a musical atmospheres which varies according to my mood of the moment.   I especially like working in the morning. It has a unique and special character. I think it's the sweetest, the most beautiful part of the day. The end of nights,  is also a moment when the mind is clear and maintains its greatest intimacy with intuition.
What "spot" would you recommend to an art lover who visit Quebec for the first time. Why?
The Place Royale and the Quartier Petit Champlain (old Quebec), for the history that emerges from its architecture, its charming streets, its art galleries, its gastronomy and its evocations of Paris.
To learn more about the artist: http://mariecatherinecote.wixsite.com/galerie
A QUÉBEC CITY HOTEL THAT LETS YOU LIVE LIFE TO THE FULLEST